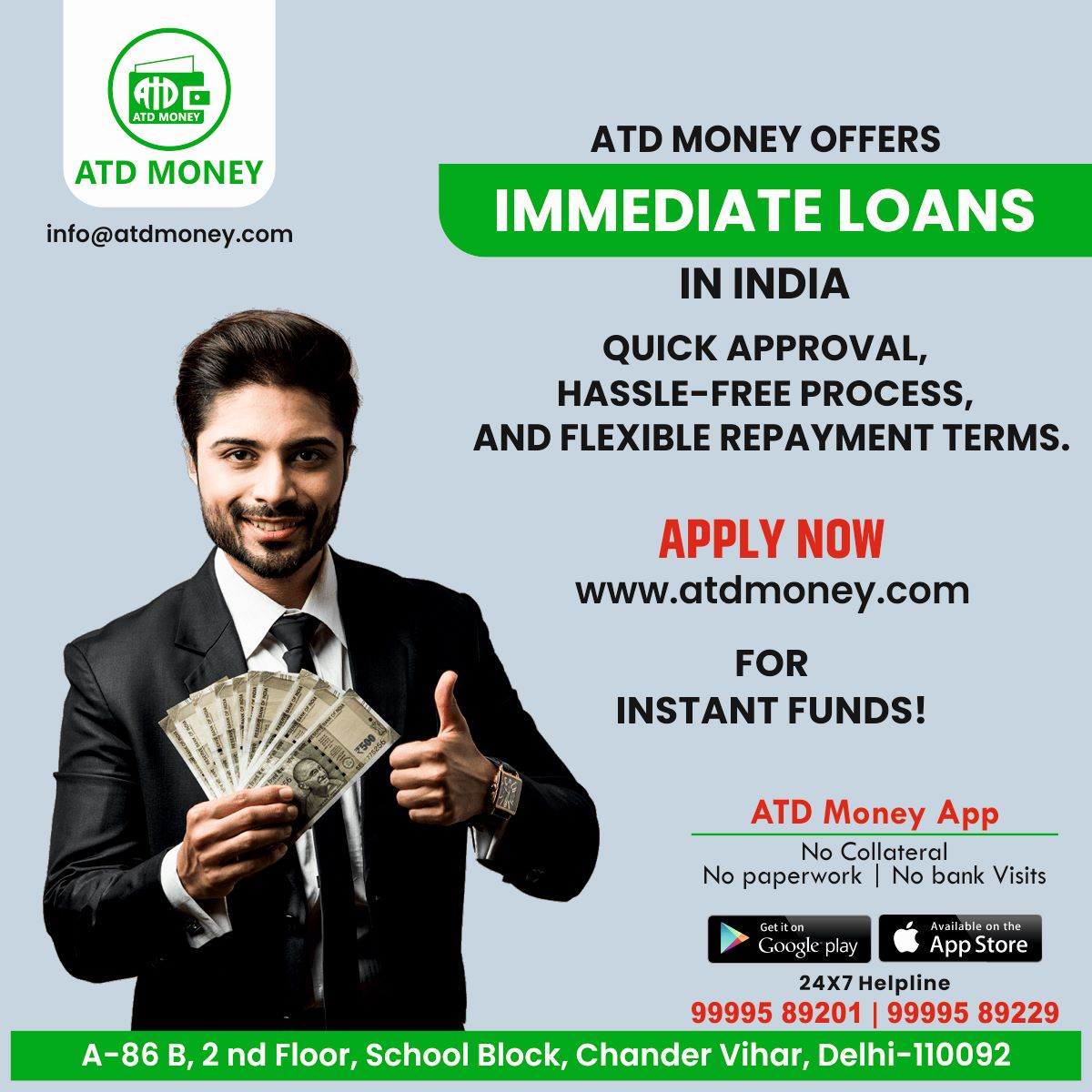 Welcome to ATD Money your trusted & premier destination for very accessible & wonderfully reliable financial solutions at your disposal. Our dedicated team takes immense pride in being a trusted partner for a long list of individuals & businesses needing instant Payday loans and unsecured business loans. Our mission is to always empower you with the financial support you require precisely when you need it the most.
Who We Are:
ATD Money is a reputed and leading financial institution that is whole-heartedly dedicated to serving the diverse requirements of our clients. With a firm commitment to maintaining transparency, integrity, & customer satisfaction at all times, we have earned a reputation for showing the highest level of excellence in the financial industry.
Our Services:
Instant Payday Loans: When certain unexpected expenses arise & you need quick cash to bridge the gap until your next pay check arrives, we have got you covered. Our instant Payday loans or quick money loans ranging from INR 3k to 50k provide a wholly hassle-free & speedy solution to your short-term financial requirements. With minimal documentation & very flexible repayment options with a tenure of 91 days to 365 days, we make the borrowing procedure very simple, convenient, and smooth sailing.
Unsecured Business Loans: Small & medium-sized businesses are the lifeblood of our economy, & we understand the various challenges you face in securing financing for growth & expansion. Our unsecured business loans offer a long list of entrepreneurs & business owners the desired capital they require without the burden of any collateral. Whether you want to invest in new equipment, boost your working capital, or think of fund expansion plans, our business loans will provide the financial flexibility you require.
Why Choose Us:
Trustworthy Reputation:

We, as a financial institution, have built a strong reputation for reliability, honesty, & ethical lending practices. Our commitment to serving your best interests is unwavering.

Quick & Easy:

As a customer-oriented financial institution, we completely understand the urgency of all our customers financial requirements. Our streamlined and user-friendly application & approval procedure firmly ensures that you can swiftly access quick funds when in need.

Transparent & Easy-to-understand Terms:

We believe in maintaining complete clarity & transparency. When you opt for an instant Payday loan from us, you will always be aware of all the essential terms, interest rates, and charges associated with your loan, allowing you to make the most informed decisions.

Customer-Centric and Proven Approach:

All our customers satisfaction is always our top priority. Our dedicated customer support team is always here to assist you in every step of the way, ensuring a smooth & stress-free experience.

Flexible and Easy Repayment:

We understand our customers financial crunches, and thus, we offer the most flexible repayment options that are tailored to your specific financial situation, ensuring that the repayments of their opted loan align with their cash flow in the best possible way that suits the respective customers.
Our Vision:
Our vision is to become the most preferred financial partner for several individuals & businesses of different sizes to seek instant Paydayloans & unsecured business loans. We aim to foster the desired financial stability, promote entrepreneurship, & contribute to the overall economic growth of the communities we support.
Get Started Today:
Whether you require quick funds to cover those unwanted and unexpected expenses or require financing to fuel your business ambitions, ATD Money is here by your side. We invite you to explore our wide range of financial solutions & take the very first step toward achieving all your financial goals.
Thank you for considering ATD Money as your trusted financial partner in your path to success. Our team of experienced professionals look forward to serving you & being a part of your glorious journey to financial success.
Contact us today to learn more about our services & how we can assist you in your financial endeavors.
Instant Payday Loan: Your Quick Financial Solution
In todays fast-paced, dynamic & progressive world, certain kinds of financial emergencies can strike at any moment, leaving you needing immediate funds. No matter whether it is an unexpected medical expenditure for yourself or any of your family members, a home renovation or repair, or simply bridging the gap until your next pay check, instant Payday loans can certainly prove to be a lifesaver at times of financial emergencies. We at ATD Money provide quick money loans. Let us give you a comprehensive overview of instant Payday loans, including all their features, prime benefits, criteria of eligibility, necessary documents, levied interest rates, other charges, & also the various frequently asked questions.
Overview:
Instant Payday loans, also referred to as payday loans or short-term loans, are strategically designed to offer the quickest financial assistance to several individuals who are facing an urgent financial crunch or need. These particular loans are typically small in amount, ranging from INR 3k to 50K & are meant to be repaid on your next/upcoming payday, making them the quickest & short-term borrowing solution during financial emergencies.
Features and Benefits:
Speedy Approval of the Loan:

One of the most significant advantages of instant Payday loans is the quick approval procedure. We approve your application within hours, allowing you to have quick access to funds when you require them the most.

Minimal Documentation for Loan Approval:

Unlike the several other types of available traditional loans in the market that require a pile of paperwork, reference checks, and formalities, instant Payday loans often require minimal documentation, simplifying the overall procedure of application.

No Collateral Required:

You are not required to provide any collateral or security to secure an instant Payday loan. Your pay check is usually enough assurance for the lender.

Flexible Repayment Terms:

These salary Payday loans are very well-designed to be repaid on your next payday, providing a short-term financial solution. This flexibility can ultimately be a blessing when you are in a tight spot.

Bad Credit Accepted:

We are willing to consider many applicants with less-than-perfect credit scores, making instant Payday loans accessible to a broader range of people.
Eligibility & Documentation:
Eligibility criteria for instant Payday loans vary from one lender to another, but generally, you will be required to:
Be of legal age, i.e. (18 years or older).

Have a very stable source of income, such as a permanent job or regular government benefits that you are supposed to get for the long term.

Provide a valid proof of identity (e.g., government-issued ID).

Have an active bank account.
To apply for an instant Payday loan, you will typically require:
A valid proof of income (bank statements or pay stubs).

Proof of identity & address (passport, utility bills, or driver license).

An active bank accounts details for fund transfer.
Interest Rate and Charges:
Instant Payday loans often have higher interest rates than the other traditional loans due to their short-term nature & quick accessibility. It is essential to carefully review all the terms & conditions of the loan, including the interest rates, processing fees, & late payment charges, before finally accepting any offer.
FAQs:
How much am I eligible to borrow with an instant Payday loan?
Loan amounts usually vary, but they are typically small & based on your income. Lenders may offer loans ranging from INR 3K to 50K.
2. How quickly can I receive the money?
In most cases, you can expect to receive the funds that you have applied for within one business day after the loan has been approved.
3. What happens if I cannot repay the loan on my next payday?
If you cannot repay the salary Payday loan on time, you may have to incur certain additional fees & interest charges. This is very crucial to communicate with your lender & explore the different available options for extending the repayment period without being penalized for the delay.
4. Are instant Payday loans safe?
While these salary Payday loans can be a precious financial tool in times of financial emergencies, it is essential to borrow these loans responsibly & only from reputable lenders like ATD Money. You should make it a point to read all the online reviews & check the lenders credentials before you finally apply for one.
5. Can I get an instant Payday loan if I have bad credit?
Yes, several lenders offer advance cash loans to individuals even with less-than-perfect credit scores. However, the terms & interest rates may vary based on your creditworthiness.
Instant Payday loans can provide a lifeline during certain unexpected financial challenges. However, they should be used responsibly & wisely and as a short-term solution only. You should always ensure you understand all the terms, interest rates, & charges associated with the advance cash loans and only borrow what you can comfortably repay. If used responsibly, these particular loans can offer much-needed financial relief when you require it the most.