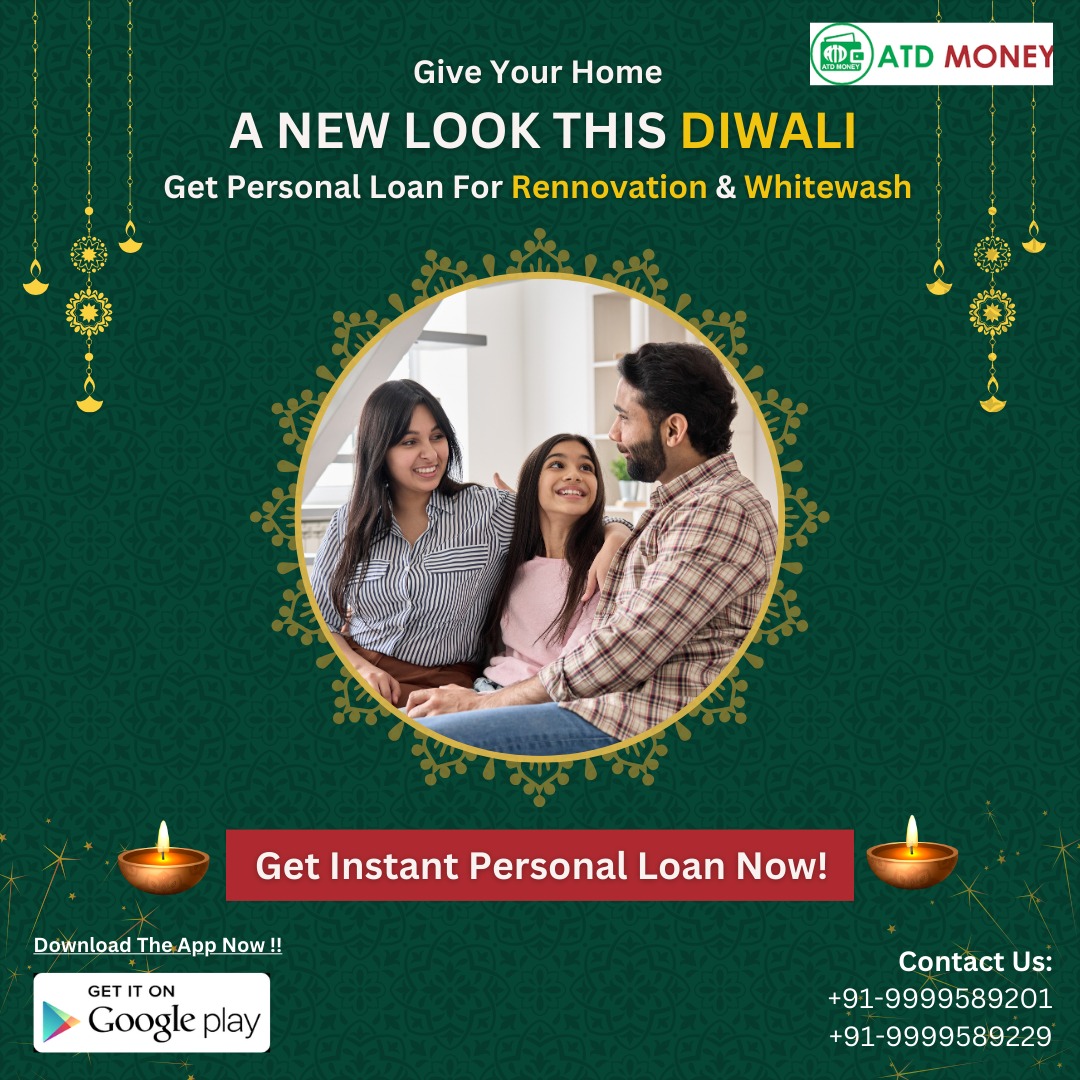 On the occasion of Diwali bring more happiness and joy in your life with best loan app in India 'ATD Money'. We live in a society where we cannot ignore anyone because we have mutual understanding with each other. And the biggest reason for not ignoring is our cultural values. And celebration our festival like Diwali is just enjoying life in a more prosperous way. As Diwali is just going to come then this is easily understood that many people have started their planning that in which manner they are going to celebrate their festival. This is also true that our planning could never be full proof; still you may find some issues in your planning. In that case only a true friend can help you, might be you are going to need quick cash to arrange something in a very short time. If you are stuck in such a situation then online loan providers are the best ways from where you can get help. They are really quick in approving your loan in a very simple process.
So, let's talk about such types of online loan providers who are here to help you, who can really help you encashing your instant fund needs. With the help of your smartphone, you are going to find many best loan apps, from where you may apply for easy personal loans in India. In some of the cases, you might think that these loans apps are not going to approve you loan application. But this connotation of yours might be wrong as many latest loans have been recently launched in the market and they are really doing well.
INSTANT APPLY FOR LOAN JUST SCAN THE QR CODE
Now, the question comes about the processing of your loan in such a short period of time. So for this, here you will get some suggestions about your loan processing. Actually these loan apps are designed in such a way, that more and more users should get benefits from these quick loan apps in India. Her you are going to find some kind of difference between the traditional approach of loan applying and the modern way of getting loan approval in the market. As you clearly know that today is the age of technology and digitalization of things is very quickly transforming the lives of its users. And, these online loan apps are helping people in availing those benefits in a very short time. For all types of loan seekers different categories of loans are available in India, you always have plenty of options while applying any loan. For working professional, you will find that advance salary loan is available, and through easy processing they can get their next month salary in advance. For those who are looking for mini loan or short term loans then this category of loan is also available various fintech service providers. The motto of every single loan provider is to facilitate the life of every loan seeker.
By reaching towards conclusion, this must be very clear; all the loan providers have really reduced the gap between the loan seekers and their loan amount. With the possible efforts loan apps in India, you can get your quick loan approval in 10 minutes only and also enjoy same day loan disbursal like feature. So, go for simple loans and don't overburden your pockets with heavy interest rates, always choose that loan app that charges the lowest interest rates with easy refund processes and the most important part is to choose only friendly loan apps note just like aliens.